Events in the month of September 2021
9/11/2021
This event has now been canceled. If you registered in advance for this event, you will be issued a refund in the next week or two.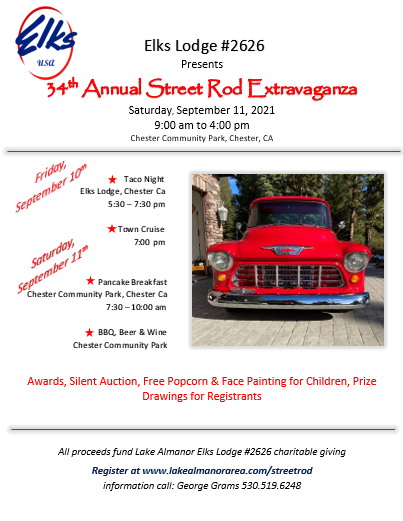 34th Annual Street Rod Extravaganza Entry Form
Saturday, September 11, 2021 ~ Chester, California ~
Open to any year motor vehicle
$30 Early Bird Entry Fee Special
$35 entry received/postmarked after August 1 and day of the event
**Parking FIRST COME, FIRST SERVED**

All proceeds fund Lake Almanor Elks Lodge #2626 charitable giving
PARTICIPATION WAIVER:
In consideration for being permitted by the Lake Almanor Elks Lodge 2626 to participate in Street Rod Extravaganza, I hereby waive, release and discharge any and all claims for damages or personal injury, death or property damage which I may have or which may hereafter accrue to me, as a result of said activity. This release is intended to discharge in advance, the Lake Almanor Elks Lodge 2626 (its officers, employees, and agents) from any and all liability arising out of or connected in any way with my participation in said activity, even though the liability may arise out of negligence or carelessness on the part of the persons or entities mentioned above. It is understood that this activity involves an element of risk and danger of accidents and knowing these risks I hereby assume those risks. It is further agreed that this waiver, release, and assumption of risk is to be binding on my heirs and assigns. I agree to indemnify and hold the above persons or entities free and harmless from any loss, liability, damage, cost, or expense which they may incur as the result of my death or any injury or property damage that I may sustain while participating in said activity.
I have carefully read this agreement, waiver, and release and fully understand its contents. I am aware that this is a release of liability and a contract between myself and the Lake Almanor Elks Lodge 2626 and I knowingly sign of my own free will.
I am aware that the Lake Almanor Elks Lodge 2626 may take photos for such purposes as publicity, illustration, advertising, and Web content.

First 100 Registrations Will Receive A Goodie Bag

9/11/2021
Faith Refined by Fire with guest speaker Dr. Kathy A. James
Saturday, September 11, 2021
Mt Lassen Community Church - 200 Main St. Chester, CA
9:00am ~ 2:00pm
Bring your own sack lunch; coffee, tea, water, fruit & cookies will be provided
Cost: FREE; Limited space ~ R.S.V.P. by Sep 8th via email:
info@mtlassencommunitychurch.org
or call (530) 258-3005.